Pre-Call What It Is & How To Use It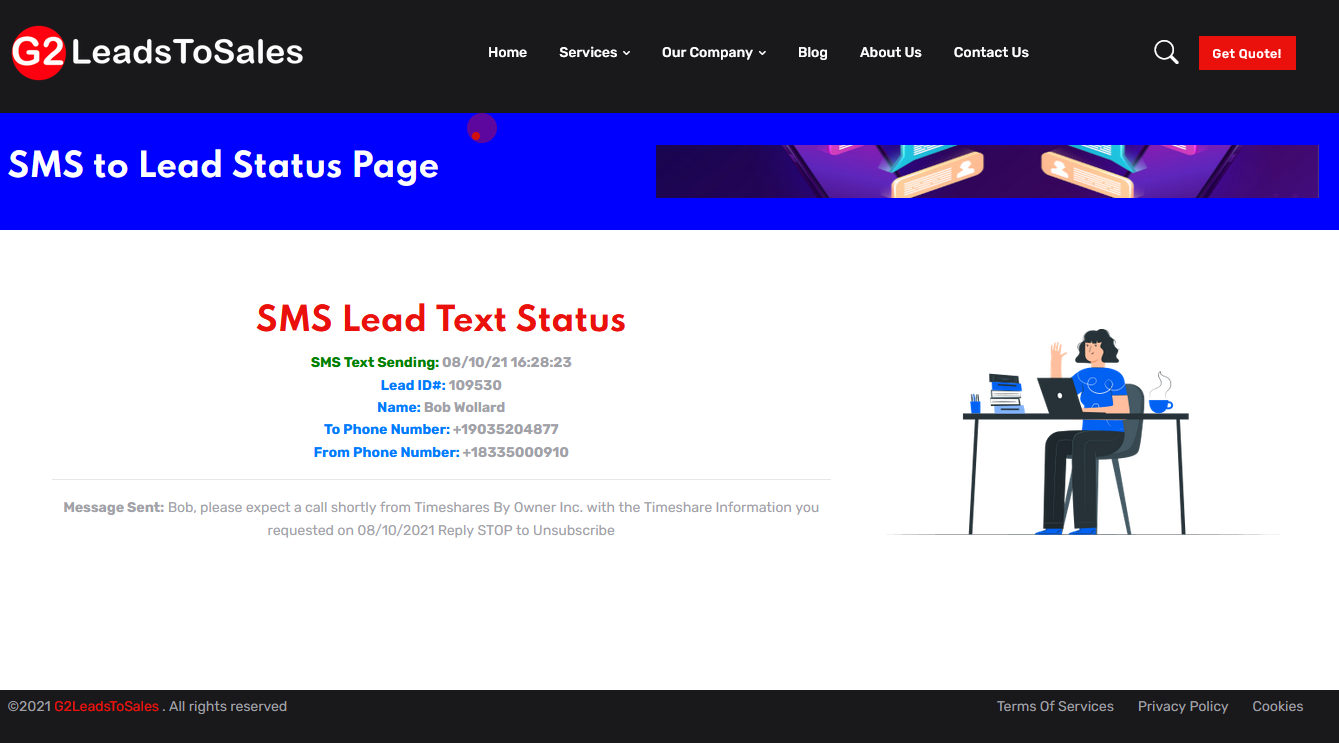 How To use our Pre-Call SMS Text Message Feature to Increase the Contact Rate for Each Lead
by George F.
June 1, 2021
Read Time 5 Minutes
Your Timeshare Lead Account has a new Free Feature: Our new feature should greatly improve the contact rate of our leads, especially leads that sit for hours or overnight before being called.
All Timeshare Resale and Timeshare Cancellation leads that include a Cell Phone or VoIP Phone number now will have a large RED BUTTON near the bottom of the lead.
This button says Send Pre-Call SMS Text Message. About 3 seconds after clicking on the button the Timeshare Owner will receive a text message saying "Joe, please expect a call shortly from Timeshare Travel Network with the Timeshare information you requested on 01/29/2021 Reply STOP to Unsubscribe" Hopefully this text message will remind him that he filled out our lead form and will answer the phone when you call. I'd suggest sending the Pre-Call SMS Text Message about 2 minutes before calling the owner, but no more than 5 minutes. In many sales studies, 5 minutes is usually the point at which people start to forget or lose interest in what they're waiting for.
If for some reason your email program will not allow you to hit the button you can highlight the URL that is below the button. Next, copy & paste that URL into your web browser (it's been tested with Firefox, Chrome, and Microsoft's Edge). Be sure when you copy & past that you get the entire URL. It also has been tested with Galaxy A21 cell phone, it should work on all cell phones, tables, laptops and desktops.
Directly above the Send Pre-Call SMS Text Message button is the exact text as it will appear on the Timeshare Owners text message.
I am Looking For Suggestions: If anyone has suggestions for a better text message to send please let me know, So far the person who's been helping me test the new software that generates and sends the message has seen a slight increase in getting people to answer their phone. Those with suggestions, we need to keep the length at 160 characters or less that includes the phrase "Reply S to Unsubscribe" as that is required by law to be there.
The Pre-Call SMS Text button will never expire. You can use it every time you attempt to call each lead. If you give up on a lead and decide to re-call those leads a year later, the button and URL will still work. The only time it will expire is if the lead gets delete from the database or the Timeshare Owner replies to a text message with the word STOP. The word STOP will automatically 'unsubscribe' him from the texting system however you still can try to call him. One more requirement, while you can text a timeshare owner as often as you wish, you must wait 3 hours between each time you text him. If you attempt to send a text too early the system will give you a message letting you know it hasn't been 3 hours yet. The system will also give you the exact time of the last text message.
When you use the Send Pre-Call SMS Text Message button you will be taken to a status page showing if the message was successfully sent. If not successful, details about what went wrong will appear on the statue page.
The image at the top of this article is a screen-shot of the Pre-Call status page. This is what you'll see when a successful message is sent.
Sign up for our newsletter to learn about discounts, services offered, and other Lead Generation, SEO, and Content Creation news..